Dec 06, 2020 05:00 PM

–

Dec 16, 2020 08:00 PM

Pacific time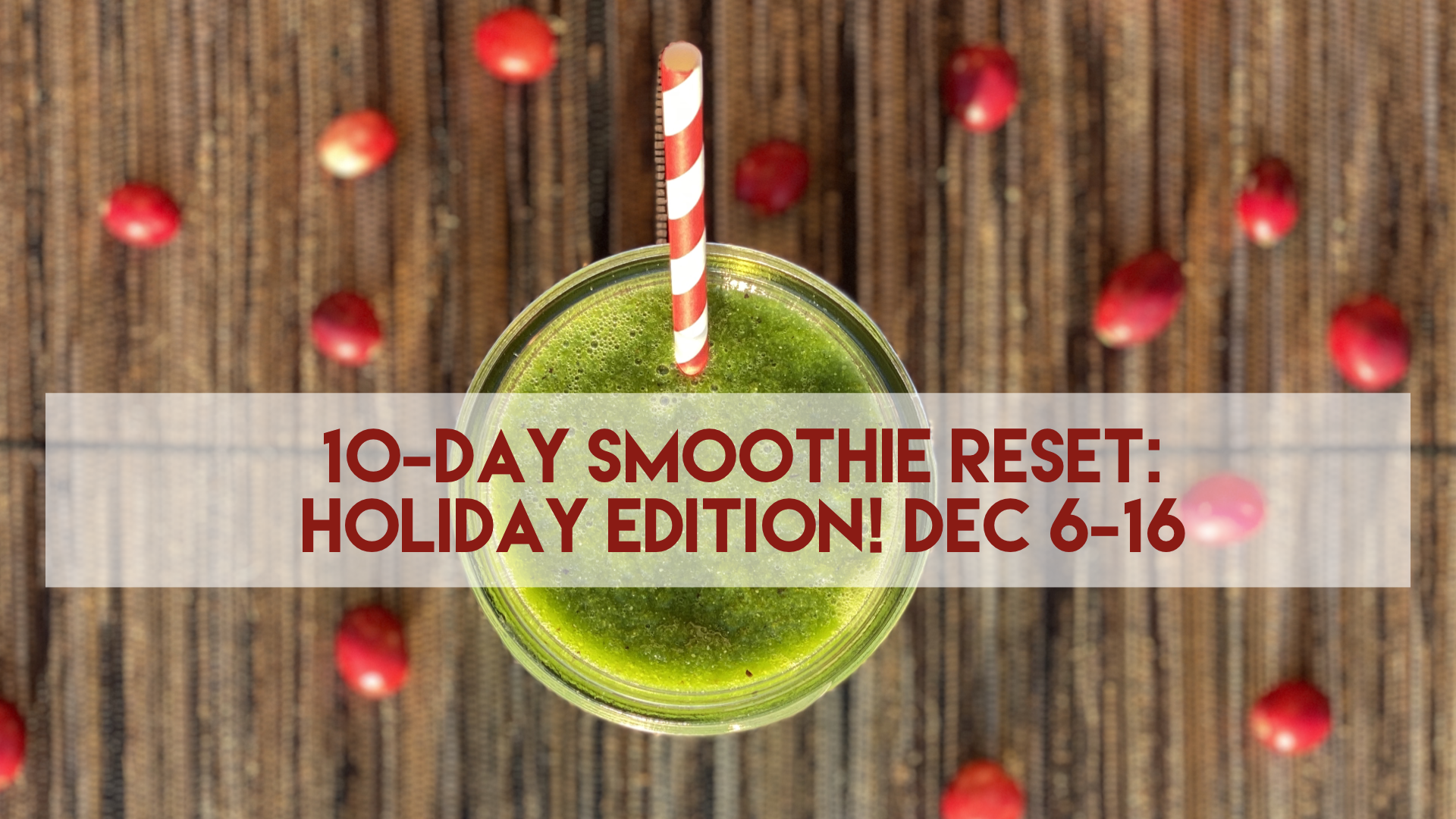 The 10-Day Smoothie Reset will give you everything you need to recognize food sensitivities, flush toxins, lose weight, reduce cravings, improve digestion, increase your energy, sleep better and glow from the inside out.

Chef Karin will provide education on how to incorporate essential oils into your culinary adventures and you will enjoy classes and tips from a team of wellness professionals. This is an amazing way to transform your health in a very short period of time and reset your body with REAL FOOD. Plus, you'll receive access to bonus education and support.
HERE IS WHAT YOU GET:
☎️ 1-on-1 Phone Consultation
💻 Smoothie Reset Zoom - Kick-Off Call on 12/6
✅ Grocery List
🍏 10 Green Smoothie Recipes (with how to videos)
💡 Health and Nutrition Education
🥗 Meal & Snack Ideas & Recipes
🌱 12 Oils, 1 Diffuser, Young Living Membership & Essential Oil Education with the following vitality oils: Thieves, Lemon, Peppermint, Citrus Fresh, Digize, Lavender and Francinsence
🧠 Glyphosate & Gut Health by Dr. Michelle Perro, MD Gordonmedical.com/team/michelle-perro-m-d/
🍴 Warm & Healing Smoothie Tutorial by Margaritasvegankitchen.com
🏠 Pantry Clean Out by Christy Vergara, Nutritionist and Wellness Coach
Brevardlactationwellness.com
💧 Detoxing Body & Home by Georginaszabo.com
💪🏼 Detox Workout & Breathwork by Liz Dietrich Coaching
🧘‍♀️ Reiki Meditation by Handsandlight.com
🧘‍♀️ Restorative Yoga & Belly Massage by Eshelhart.com
🧘‍♀️ Cleansing Yoga & Meditation by Jodimcleanyoga.com
🧘‍♀️ Laughing Yoga by Katharine Shotz
🌸 Aroma Freedom Technique by @ARenewedMindWithAromaFreedom
🌟 Infrared Therapies & Dry Brushing by Embody108.com
😊 Fascia Facial Technique "Natural Botox" by Ecovibewellness.com
🤝 Online Member Community and Resources (Private FB group)
💻 Smoothie Reset Zoom - Closing Celebration on 12/16
🙌 Giveaways and Prizes

This program is valued at over $2,500!!!
COST:
- Only $165 (plus shipping & tax) by Nov 30
-Current members of The Living You Community: FREE with a 100PV order by November 30
-Current members outside The Living You Community: $145 by November 30

* Price does not include cost of groceries
PAYMENTS:
Credit Card accepted During your 1-on-1 Phone Consultation
MEET CHEF KARIN:
https://youtu.be/ra76kv_1DCg See Less
Online